做了这超松软的鲜橙戚风蛋糕。
I'm back! Having finally gotten a heart-shaped chiffon cake mould, I decided to make a heart-shaped Orange Chiffon Cake
in conjunction with Ann Low's Little Thumbs Up event

.
好吃!好好吃!
The soft cake, filled with the sweet taste of fresh oranges was complimented by the occasional bites filled with the juicy syrup-immersed orange zest. Delicious!
香橙戚风蛋糕
面糊
蛋白霜
做法:
1) 蛋黄+细砂糖+盐搅拌均匀。加入粟米油+鲜橙汁+
蜜汁橙皮

拌匀。
3) 蛋白稍微打发,分次加入细砂糖打至湿性发泡。 (过程大约2分钟)
4) 把蛋白霜分次加入蛋黄面糊里用刮刀轻轻搅拌均匀。
7) 蛋糕烘好后,立刻把蛋糕取出倒扣,待冷脱模才享用。
蜜汁橙皮
(syrup-immersed
orange zest )
Orange Chiffon Cake
Makes a 20cm Heart Shape Chiffon Cake

Ingredients:
5 Egg Yolks
10g Caster Sugar
Pinch of Salt
40g Corn Oil
50g Orange Juice
60g Cake Flour(Low Gluten Flour), sifted
30g Rice Flour, sifted

1tsp orange zest
40g syrup-immersed orange zest

5 Egg Whites
60g Caster Sugar
1 tsp lemon juice


Method:
1. Preheat oven to 165'C, fan-baked.
2. Mix cake flour and rice flour in a bowl.
3. Beat yolks, sugar and salt with a hand whisk until slightly pale. Add oil, orange juice and orange zest. Stir well on each addition.
4. Add flour mixture in 3 separate rounds. Use a spatula to mix until smooth and no lumps.
5. Beat egg whites until frothy. Add sugar in 3 separate rounds and beat until just under stiff peaks and glossy-looked. It is ready when you turn the bowl upside down, the egg whites should stay without falling.
6. Give a gentle stir to the egg yolk mixture. Fold 1/3 of egg whites into the yolk mixture. Then, pour it into the rest of the egg whites. Fold until just combined.
7. Pour into the chiffon pan, lift & drop the pan gently to remove air bubbles.
8. Bake at lower middle level for 45 minutes or until a cake tester comes out clean.
9. Invert immediately and let to cool down completely on a wire rack.
20cm 心型戚风蛋糕模子,我花了2000日元(约马币65令吉),
来着的帖子,会分享更多的战利品,有兴趣的话,请留意咯。
I bought this 20cm heart-shaped chiffon cake mould while I was at Tokyo. For 2000 yen (about RM65), this long sought after cake mould is finally mine! In the upcoming posts, I will continue to share more about the stuff I bought from Japan. If you're interested, do stay tuned!
Thanks to Joceline for sharing this wonderful recipe!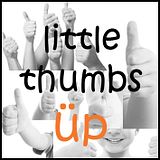 I am submitting this post to the "Little Thumbs Up" event
organized by Zoe of Bake for Happy Kids and Doreen of My Little Favourite DIY and hosted by Ann Low of Anncoo Journal.